Certification and Training
Resilience Alliance offers a range of training programs and workshops, ranging from short self-study online courses to in-depth certification programs designed to prepare practitioners to incorporate powerful tools and models into their consulting, coaching, and training interventions.
Personal Resilience Practitioner
Based on the research-based model introduced in Prosilience: Building Your Resilience for a Turbulent World, Personal Resilience Practitioners learn to create impactful conversations around resilience in individual, team, and group settings, both online and face-to-face. Using the Personal Resilience Profile (PRP) assessment and a comprehensive set of facilitator materials, practitioners help people strengthen their "resilience muscles" to deal with a wide range of challenges.
Three things happen when individuals develop an ability to thrive in turbulence:
They perform more effectively during change and other challenges
They spend less time in unproductive activity
They can absorb more disruption
Description
The Personal Resilience Practitioner Certification series consists of four live webinars of three hours each, plus prework assignments for each session. Practitioners receive:
Guidelines and strategies for using the PRP and materials in one-on-one coaching, small groups, and classroom settings
Instructor/coach kit with reproducible slides and handouts, activity materials, and detailed facilitator notes
Access to the Resilience Alliance online platform for distributing, processing, and downloading Personal Resilience Profiles
Membership in the global practitioner community to connect with other practitioners, receive updates, and learn about continuing education opportunities
Please contact us for more information.
Team Synergy Practitioner
Based on the model of synergistic team interaction introduced in Daryl Conner's influential book Managing at the Speed of Change, Team Synergy Practitioners learn to assist teams in using combined strengths and personal energy more effectively when operating in challenging situations. The Team Synergy Profile explores the foundational elements of high-functioning teams, and serves as the basis for practical interventions to strengthen team performance.
Practitioners who are certified in both the Personal Resilience Profile and the Team Synergy Profile can combine the two assessments to create a unique and powerful evaluation of the team's ability to leverage their individual resilience strengths in a team setting and deliver exceptionally high performance in turbulent situations. We recommend this combination for teams who play critical roles in change and in crisis response.
Description
The Team Synergy Practitioner Certification series consists of online self-study plus three live webinars of two hours each. In addition, we provide one-on-one coaching through the delivery of the practitioner's first team report.
Practitioners receive:
Guidance in collecting data, interpreting results, providing feedback, and designing workshops to help teams develop their capacity for synergy.
A template and materials for educating teams and facilitating the Team Synergy Workshop.
A guide to team development interventions that can be used to strengthen selected elements of team synergy.
Access to the Resilience Alliance online platform for distributing, processing, and downloading Team Synergy Profiles.
Membership in the global practitioner community to connect with other practitioners, receive updates, and learn about continuing education opportunities
Please contact us for more information.
Bring resilience to your organization, association or community! Dr. Linda Hoopes and her colleagues have delivered talks and workshops to clients around the world. We love engaging people in learning about their own resilience, challenging leaders to build more resilient organizations, and talking about what we have learned in our many years of work in the field of resilience, organizational change, and well-being. In addition to her warm and dynamic energy in live sessions, Linda's been getting rave reviews for her skill in creating truly interactive online workshops. Let us customize a workshop, course, keynote, or breakout session for you!
Sample Speaking Topics
Prosilience: Building Your Resilience for a Turbulent World
Resilience—the ability to navigate high levels of challenge while maintaining well-being and productivity—is a critical life skill. Everyone faces challenging situations in life—small and large, planned and unplanned, work-related and personal. As the pace of change continues to increase, the level of challenge rises as well. In this workshop, participants will learn about the "resilience muscles" that help them thrive in turbulence, assess their current strength, practice using these characteristics in engaging exercises, and plan activities to build their readiness for change. They will walk away with practical suggestions and resources for further development.
Leading with Energy: Fueling Resilience and Fighting Overload
Human energy is the fuel for successful change. Every major initiative draws on a combination of physical, mental, emotional, and spiritual energy. When the demands of change exceed available energy, people begin to display symptoms of overload, including absenteeism, poor decision-making, and increased errors and accidents. Leaders play an important role in helping people build, sustain, and replenish their energy—first through modeling, and then through coaching, development, and establishing systems and processes that value and protect employee well-being. In this workshop, leaders at all levels will learn how and why energy is critical to productivity, assess their personal energy, evaluate the organization's energy-enabling practices, and plan a strategy for increasing the organization's human energy sustainability. They will walk away with insights about themselves, their leadership practices, and the things they can do to build a more resilient organization.
Strategic Change Readiness: Preparing for Permanent Whitewater
As the pace of change in organizations continues to increase, and as multiple, overlapping changes become the norm, leaders need to think strategically about building the organization's readiness for change. This workshop outlines four aspects of strategic change readiness: building a resilient organization, increasing change knowledge, managing capacity and demand, and creating execution capability. Participants will complete an organizational assessment in each area and identify critical next steps to strengthen the organization's readiness for living in a world of continuous change.
We can customize the length and focus of presentations to meet your needs and can work with groups of any size as well as online audiences. Our team of experienced trainers, speakers, and coaches is ready to energize, educate, and engage your organization, association, or meeting.
Click HERE to download a printable version of this information:
We are happy to create workshops and speaking engagements unique to your organization, and to introduce you to other members of our team also available for speaking engagements. For more information or to book Dr. Hoopes, please contact John Hoopes, 404-371-1017.
Resilience Alliance's online courses are short, self-paced classes designed for coaches, consultants, trainers, and leaders who want to incorporate resilience ideas and tools into their work. We periodically add new classes, so please come back and check for updates!
Coaching for Prosilience is now open!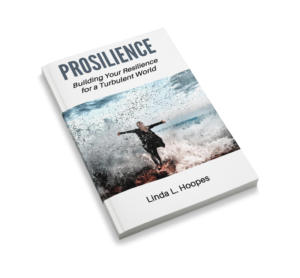 Based on the award-winning book Prosilience: Building Your Resilience for a Turbulent World,  this self-paced course equips coaches to apply the building blocks of resilience with clients, helping them work through current challenges and prepare for future ones. It comprises 9 lessons including approximately 40 minutes of video and self-study activities and includes:
Short video summaries of key concepts
A tool kit of PDF forms and handouts
Powerful questions to dig into resilience issues
Suggested practice exercises to build skill in applying these tools
Stories and examples from experienced coaches
We have the following certifications scheduled. Each cohort involves 4, 3-hour sessions. If you are interested in joining one of these cohorts, please contact us. Please note we cap these cohorts at 5 participants so reserve your seat if interested. If these dates do not work with your schedule, or if you have a group of two or more interested, we can plan certification to fit your timeline.
Personal Resilience Practitioner Certification
2022 4th Quarter
October 17 & 31, November 14 & 28
All times 10am-1pm EDT/EST (GMT -4/-5)
-except 11/14 will be 11am-2pm
November 4 & 18, December 2 & 16
All times 3pm-6pm PST (GMT-7)
2023 1st Quarter
January 9 & 23, February 6 & 20
All times 10am-1pm EST (GMT -5)
Team Resilience / Team Synergy Practitioner Certification
We currently do not have a certification scheduled. If you are interested in participating in our next session, please
contact us
.
Subscribe
Nourish your thinking on resilience, change,
and well-being! Linda's newsletters are
thought-provoking and informative.